General Information
Edit
Looks like this is the hardest level in the whole game. There is no "guranteed win" strategy at the moment, but there are some good starts, that yould resolve in a win. So take your time. You will need some tries!
How to Equip your Dice
Edit

Shield 2 support Cleric.(1x)
All shield 1 support Cleric(1x)

Teleport Shaman (2x)
Full AoE Mage (2x)
Potions you should have
Edit
minimum of 10 potions of fire.
minimum of 5 potions of antidote
maybe 3 potions of viscosity
maybe 3 potions of petrification
The enemys
Edit
(coming soon)
How to play
Edit
Generals things
Edit
I found a working strategy for the first few turns. After that... Good luck!
Important: Before you do any Dice turn, look if you can use a potion of fire to kill an enemy with shield 1 or 0! It could make the difference between winning and loosing.
Let's go 
Edit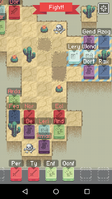 Click on the picture to see detailed what happenend. (An arrow (⇓) means, that it goes to the next picture) I'll write down here what you shall do. After this it is still luck to win ;)
I tried a few combinations, and this looks like it is the best. Place your dice, how I did in the Screenshot.
⇓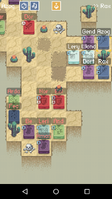 Place the Cleric with a "every shield 1 in the middle" and the Shaman with the second turn (Here called Rax, you need to try which one of yours goes first) on the belower position.
⇓
Start the following: shield your Shaman with a shield of 2. (Here called Rax) and shield your other dice with a shield of 1. After that use Azog to teleport Rax.
⇓
Kill Leri with a Fire potion. Use Rax' class ability and take control over Fea. Use its class ability to take control over Nor.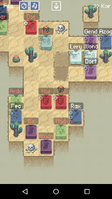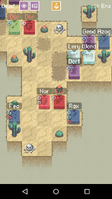 ⇓
Your Mage (Here called Dort) can now kill the two Mages! Because they lost all their defence, when the Shaman is dead.
⇓
Use Nors class ability Berserk to kill the neighboured enemy Warrior.
⇓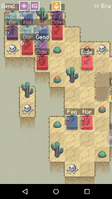 Shield one Mage (here called Gend) with a shield of 2. and teleport it into the left enemys.
⇓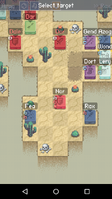 When the Mage is on its turn use a fire potion to kill the middle Cleric and kill the other with a Scroll of fire tornado (hopefully the dice gets this rolled) to kill the other enemy Cleric.
Now your enemy can not revive a dice and hopefully you can kill him! Good luck!